Welcome!
We are currently located online only, until we are allowed to be physically open again.
You can follow us on facebook: @theyogabranchnb
or you can sign up for online classes by joining:
https://www.facebook.com/groups/theyogabranchapril
My classes are usually $50/month, however in light of all we are going through, I am leaving that amount open to whatever works for you/whatever you are called to pay: Paypal: yogawithstacy@yahoo.com or Venmo: @Stacy-Sandler-2, or mail to: The Yoga Branch, 38891 6th Avenue, North Branch, MN 55056
In the Facebook group: Beginners Yoga will be Mondays at 7pm, and Next Level Yoga will be Wednesdays at 7pm each week, these will stay posted in the group all week, so you can of course do them at anytime, and as many times as you'd like.
There are also bonus classes this month of those who have inspired my yoga path. It's great opportunity, you will not want to miss!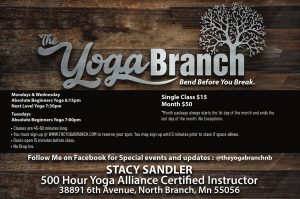 Follow me on Facebook for Special events and updates:
Stacy Sandler
500 Hour Yoga Alliance Certified Instructor
38891 6th Avenue, North Branch, MN 55056
At The Yoga Branch we share traditional yoga values with the heart of yoga being minimally as important as the poses themselves. The focus of the studio is on sharing yoga with the community, and guiding them to a better place, physically & mentally. There are workshops held by various teachers, as well as different levels of yoga classes through the week. Read more…